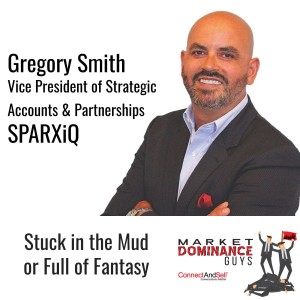 Wednesday May 12, 2021
EP81: Stuck in the Mud or Full of Fantasy
Welcome to another episode of Market Dominance Guys with Chris Beall and Corey Frank. Today, our guys continue exchanging ideas with Gregory Smith, Vice President of Strategic Accounts and Partnerships at SPARXiQ. In this third part of their discussion, they talk about the view from a CEO's desk. Chris, who is himself a CEO, thinks that most chief executive officers' view of their company is often skewed by the remove at which they look at its operations. As he puts it, "They tend to be either stuck in the mud or full of fantasy." Greg and Chris then reveal that they are both true believers in C-level staff getting out on the frontline and experiencing the jobs their employees do.
"If you want to be an effective CEO or even a VP or SVP," Greg advises, "you've got to get out in the field and experience it, feel it, understand it." He encourages all CEOs to spend the day with one staff member in each division of their business once a year. Chris agrees with this plan. "When you do that," he says, "you grow in respect for your people who are on the front lines. You see that what they do is brilliant." Get the details on how to dominate your market by spending time with the talented people you've hired in today's Market Dominance Guys' episode, "Stuck in the Mud or Full of Fantasy."
About Our Guest Gregory Smith is Vice President of Strategic Accounts and Partnerships at SPARXiQ, a business that delivers analytics, training, and software solutions that help companies accelerate performance and profitability.
------------------
-------------------------------
Market Dominance Guys is brought to you by
ConnectAndSell. ConnectAndSell allows your sales reps to talk to more decision-makers in 90 minutes than they would in a week or more of conventional dialing. Your reps can finally be 100% focused on selling, even when working 100% from home since all of their CRM data entry and follow-up scheduling is fully automated within ConnectAndSell's powerful platform. Your team's effectiveness will skyrocket by using ConnectAndSell's teleprompter capability as they'll know exactly what to say during critical conversations. Visit, ConnectAndSell.com where conversations matter.
Uncommon Pro - Selling a big idea to a skeptical customer, investor, or partner is one of the hardest jobs in business, so when it's time to really Go Big, you need to use an Uncommon methodology to gain attention, frame your thoughts, and employ a sequencing that is familiar to convince others that your ideas will truly change their world. Through Uncommon Pro's modern and innovative sales, scripting, and coaching toolset, we offer a guiding hand to ambitious Sales Leaders and their determined teams in their quest to reach market dominance. Today is the day things change. It's time to get "uncommon" with uncommonpro.com.