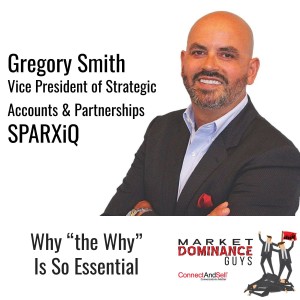 Tuesday May 04, 2021
EP80: Why "the Why" Is So Essential
In this Market Dominance Guys' episode, Chris Beall and Corey Frank continue their conversation with Gregory Smith, Vice President of Strategic Accounts and Partnerships at SPARXiQ. They're talking today about talent acquisition and development, which Greg says is about 60–80% of most companies' expenses — and could be one of the significant reasons why some businesses don't grow. He believes that a company is only as good as their people and the way their people treat customers. With the goal of inspiring his own team to reach for that high customer-service bar, Greg explains his approach in this way: "I'm a coach, I'm a mentor, and I appropriate the resources my team needs to be rock stars."
The guys then segue into a conversation about the importance of bringing employees in on the reasoning behind what they are being asked to do. Chris and Corey refer to this explanation as "the why," and you'll hear how each of these three experts is a believer in this part of talent development. Here's Greg's explanation of how he uses this approach in leading his team: "First, I provide the strategic vision and make sure they understand 'the why.' Then, I get the hell out of the way and let them do their job." Pause for a few moments from your own job to take in all the insights and advice you'll hear on today's Market Dominance Guys' episode, "Why 'the Why' Is So Essential."
About Our Guest
Gregory Smith is Vice President of Strategic Accounts and Partnerships at SPARXiQ, a business that delivers analytics, training, and software solutions that help companies accelerate performance and profitability.
-------------------------------
Market Dominance Guys is brought to you by
ConnectAndSell. ConnectAndSell allows your sales reps to talk to more decision-makers in 90 minutes than they would in a week or more of conventional dialing. Your reps can finally be 100% focused on selling, even when working 100% from home since all of their CRM data entry and follow-up scheduling is fully automated within ConnectAndSell's powerful platform. Your team's effectiveness will skyrocket by using ConnectAndSell's teleprompter capability as they'll know exactly what to say during critical conversations. Visit, ConnectAndSell.com where conversations matter.
Uncommon Pro - Selling a big idea to a skeptical customer, investor, or partner is one of the hardest jobs in business, so when it's time to really Go Big, you need to use an Uncommon methodology to gain attention, frame your thoughts, and employ a sequencing that is familiar to convince others that your ideas will truly change their world. Through Uncommon Pro's modern and innovative sales, scripting, and coaching toolset, we offer a guiding hand to ambitious Sales Leaders and their determined teams in their quest to reach market dominance. Today is the day things change. It's time to get "uncommon" with uncommonpro.com.